Position and speed ...
For most left turns, you will position by maintaining your normal safety-line driving position - about one metre from the kerb (using a left-turn lane if this is provided).
The only exception to the 'normal' safety-line positioning would be if you were turning into a very tight road or gateway. In this type of situation, you may need to 'swing out'; in these circumstances, you need to take extra care, making sure that all other road users are fully aware of your intentions and that you are aware of theirs.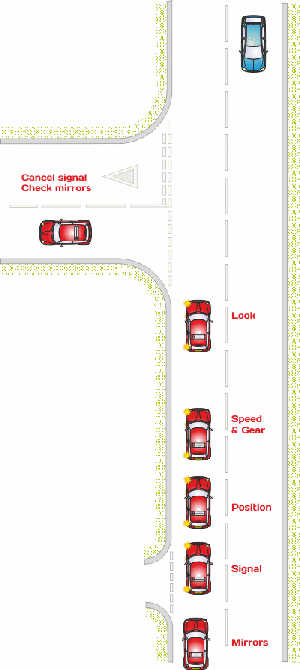 Situations where you need to swing out, are pretty rare, and your driving instructor will ensure that you have had lots of practise with 'easy' left turns before taking you to any 'tricky' ones!
Having sorted out your position, you can now adjust your speed.
In a manual car, you will often use second gear for left turns like the one shown in the diagram. Your speed must be eight mph or less before changing to the gear for the turn - you must be positive with your braking. A good trick is to make the car feel like it's going too slow on the approach and then ease off the brake either slightly or entirely when you change gear.
If your view is restricted or the turn is exceptionally tight, you might need first gear in a manual car. If the junction is 'Y' shaped, third gear might be OK. The important thing is that the gear must give you complete control as you turn and sufficient power to accelerate after turning.
In an automatic, use your footbrake to slow down to a safe speed for the turn before you start to steer.
In an electric car, ease off or release the power to slow down to a safe speed for the turn before you begin to steer. Whether or not you need to brake will depend on the vehicle setup and driving characteristics.
You must go slowly enough to stop if needed, for example, if a pedestrian steps out.
Regardless of the type of car being driven, one of the most common problems with left turns is excessive speed on approach - just a few miles per hour too fast can make a big difference.
Ideally, your speed will be 'spot on'; however, If you must make a mistake - make the mistake of going a bit too slow. That will be easier to fix later!