A personal story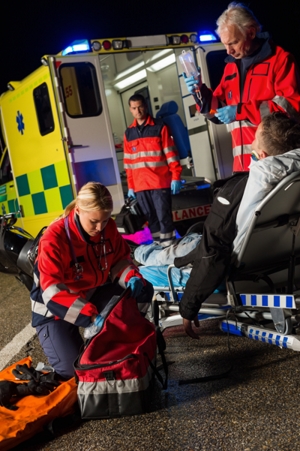 My name's John Farlam - I'm getting on a bit and have been involved in driver training since 1979, before most people reading this were born!
Before becoming a driving instructor (at the age of 24), I was involved in several accidents between the age of 18 and 22.
I wrote off 5 cars and a lorry – these were just the ones I was driving! There were at least three other cars written off.
I was extremely lucky - I was not severely injured, disabled or killed.
With what I know today, I could have avoided every one of the accidents simply by allowing more space for other drivers' mistakes.
In five of the six write-off accidents, other drivers were prosecuted for driving offences. The crazy thing was that this made me believe the accidents were their fault and that I was simply an 'innocent victim'! But it's strange that since that time, I've driven many more miles and encountered countless bad driving incidents but not crashed.
Was I just unlucky in my first four years on the road? I don't think so!
The accidents were the fault of the other drivers because they were driving dangerously - but with a bit more 'defensive thinking', I could have avoided them all.
In the sixth write off I was the only car on the road - I believed that I was the best driver in the world. Unfortunately, many young people (predominantly male) have an inflated idea of their driving abilities. They get an adrenalin buzz from speed and allow that to override any sense that they have - that was me! I was lucky to get out of the car that I rolled - so were my passengers. Many young people are not so lucky.
The reality is that while I thought I was a cool driver most other people (including girlfriends I was trying to impress) probably thought I was stupid (I was!).
A 'heavy' message?
It might be easy to wave your fist and swear at someone who cuts you up, and it can be tempting to try and 'teach them a lesson' but let's get real...
You could end up in the mortuary, on a slab. Sorry if that's a bit blunt, but it happens to the 1.35 million people who are killed in crashes worldwide every year. About one every 25 seconds.
I was never taught to be a 'defensive driver' or to have a forgiving attitude on the road - the reason I became involved in driver training was so that I might help others to make better and more informed choices than I did in my early driving years.
Many of us learn from experience, but believe me when I tell you that my experience of crashing is not one that you want for yourself (if you survive).
Make a choice to take your driving seriously, to use your powers of concentration, observation and anticipation to the full every time you drive.
If you want the adrenalin buzz that driving fast, drifting, and doing stunts can bring, join a club, do it on a track - not on public roads.
A preacher?
Am I just some 'old man' who is preaching when I say that you have real responsibilities when driving, both to yourself and others?
If you are a young person, it's possible that driving a car might be the first and most significant real responsibility in your life.
Often the road safety message gets lost because of the pompous, 'do-gooder' attitudes of some of the 'preachers'.
But please trust me when I tell you I don't wish to preach - it's your life and your choice.
But remember that crashes hurt you and everyone else who survives them.