Basic left turns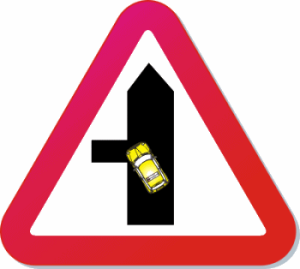 You may have already done some left turns during your lessons, but your instructor might have been helping while you concentrated on the controls.
It's now time to start taking more responsibility for your driving.
When completing quiet left turns without your instructor's assistance, you will be using the Mirrors- Signal- Manoeuvre (MSM) routine.
You might not have realised it, but you have already used the MSM routine when moving off and stopping. Here we are using a 'simple' version, but you will learn about the routine in more detail in the Road Skills part of this programme.
For now you simply need to start developing a Mirrors, Signal, Manoeuvre habit.
There are two main types of left turns:
Main roads and side roads:
The term 'major' or 'main' road has little or nothing to do with traffic volume - it simply describes the road with 'priority'. Both major and minor roads will be virtually free of traffic in quiet housing estates.
Priority:
When you have priority, other traffic should give way to you - however, this does not mean that you can ignore the actions of other road users. After accidents, you will sometimes hear drivers angrily shouting things like, "I had the right of way!"
WRONG! No one has the right of way!
Whether you are on a major or minor road, you have to drive 'defensively', allowing for the mistakes or bad driving of others. If another driver ignores a road sign and drives out in front of you, you have to try and avoid them - if you don't, you could be equally liable in any court proceedings. After all, I'm sure that you would like people to allow for your mistakes - and we all make mistakes from time to time!
Left turns major-to-minor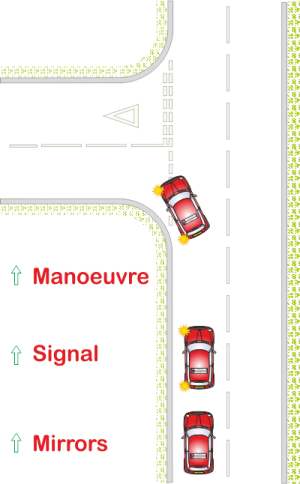 As you approach a junction on the left, you first need to check your mirrors to ensure that it is safe to slow down for the turn.
It will almost always be safe to slow down; however, later on, when you drive on busier roads, the information from the mirror may affect how hard you press the brakes. You might even choose to abort the turn in an extreme situation, for example, if your mirror checks revealed a fast-moving emergency vehicle behind.
After deciding that it is safe to turn, give a signal to let others know what you intend to do.
Even though you might not see anyone else around, it's still good to give a signal at junctions because it may benefit someone around the corner (whom you have not yet seen). After signalling, recheck your mirrors to determine how the vehicles behind are responding to your signal.
Before you turn, it's a good idea to check the left door mirror (nearside mirror) to ensure no cyclists are trying to pass on your left, particularly when driving in slow-moving traffic.
Take care if there is a cyclist in front of you before you turn - never try to 'cut across' them. Hang back and allow them to pass the junction before you turn. You must also be prepared to give way to pedestrians. (Highway Code Rule 170).
Minor-to-major
When turning out of a side road, the routine is the same - Mirrors, Signal Manoeuvre.
Mirrors: Check your mirrors to make sure it's safe,

Signal: Signal in good time to help other road users.

Final mirror check: Recheck your mirrors before turning, particularly for bicycles on the left. This check is crucial when emerging because you might be stopped for a while waiting for a gap in traffic, giving cyclists to catch up.
Manoeuvre: Because you will not have priority when 'emerging' from a minor road you, must always be prepared to stop.
If you are practising on quiet roads, it might be easier for now to stop every time you approach but aim to do it in a specific way. Use the footbrake to make the car feel as though it's going to stop too early, but then just before it stops (one or two car lengths before the junction), ease off the brake. In a manual car, this is the point at which you press down the clutch to 'roll' the last few metres (a 'controlled roll'). This approach to braking will create plenty of time to check that the new road is clear regardless of the type of car you are driving (manual, auto, hybrid or electric).
Help?
You might want your instructor to prompt you about your speed, routines and control at this stage, but the more you can do for yourself, the quicker you will learn. The trick is to give yourself plenty of time by slowing down.
Initially, you might be slowing down a bit too much, but that's OK - as you gain skill and confidence, the speed will increase. Getting it right is much more important than getting it quick!
It's vital to tackle only those turns you can cope with and stick to quiet roads where you won't inconvenience other drivers - if you feel 'out of your depth', slow down and ask your instructor to take you to a more manageable location.