What is a safe speed?
If you are involved in an accident, the faster your speed, the more likely you are to kill someone or be killed yourself.

The video below is from a controversial road safety campaign from Northern Ireland in 2007 carried the message 'The faster the speed, the bigger the mess'. (Warning: This video contains graphic scenes of crash that could be disturbing for some people).
Speed?
Despite the depiction in the horrific video above, it's not the speed that kills you - it's the sudden reduction of speed and transference of energy.
So, with the information above in mind, maybe the safety slogans should perhaps read: 'Impact Kills'.
So how do we square this idea with a notion of safe speed?
The DriverActive online course discusses the importance of keeping a safe space around your vehicle. The prevailing conditions determine this space, and it must be big enough for your vehicle to stop safely in the event of both foreseeable and unexpected occurrences.
Given this information, we can now argue that: Impact Due To Insufficient Space Kills
Because the driver can (mainly) control the space around the vehicle, the next logical argument for our slogan is that: 'Impact, Due To Insufficient Space, Caused By The Actions of The Driver, Kills'.
OK - it's getting a bit wordy for a slogan!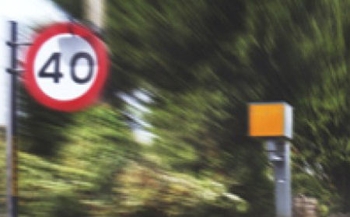 But ultimately, speed and space are the two variables you can control. When you control these well, you will keep yourself and those around you safe and alive at any speed.

At DriverActive, we certainly don't condone breaking speed limits, but there are roads in the UK where 130* mph would be safe in certain conditions*. But it's not the road or the speed that determines safety – it's the driver.

*High speeds are not only illegal on public roads, they are socially irresponsible. Even if there was an argument that a racing driver in a sports car could drive safely at high speeds on a motorway, we live in an age where climate change poses an existential threat. The faster the speed the higher the emmisions. However, the top speed recorded on the M1 was 185 mph – see this Autocar article.
So, how much space?
You can kill a toddler at speeds as low as a few miles per hour. Whatever your speed, you must anticipate likely happenings and leave enough space to cope. Most accidents happen in built-up areas – that's why they have the lowest speed limits - lots of traffic, but not much space. In built-up areas, there are also a lot of soft targets (literally). These 'targets' are called pedestrians.
If a speed of two or three mph can kill a pedestrian, what do you now understand the term 'Speed Kills' to mean?
Perhaps one of the biggest speed traps is that which leads drivers to think that they pose no danger when driving slowly.