Turning - Waiting position
Earlier, we said that if you are unsure whether or not to proceed, you should wait.
If you need to wait, stop in position W (diagram below) until it is safe to turn; waiting in this position will enable you to steer easily – take care not to stop too far forward.
While waiting, keep your wheels pointing straight ahead and use the handbrake; this prevents you from being pushed across the road into the path of approaching traffic if someone bumps you from behind or your foot slips off the clutch in a manual car.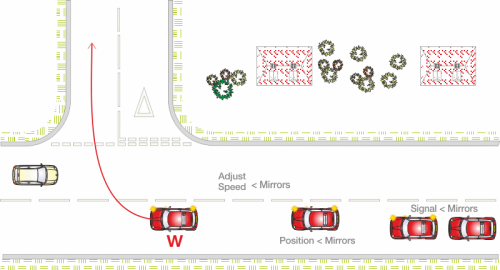 Judging the turn
To help you decide whether to turn or wait, you can use your experience as a pedestrian.
If you could safely walk across the road in front of the approaching car on foot, there would be enough time to drive across. However, there is more to think about than the approaching traffic.
You must ensure you can complete the turn without having to stop. This means that you need to look out for pedestrians, cyclists, traffic queues in the side road, and parked vehicles or other obstructions that could prevent you from turning safely.
Good observation not only allows you to ensure that it's safe to turn, it will also help with your steering. To steer safely, you must be looking in the correct place – that is, where you want the car to go.
IMPORTANT: When you start to turn at point W (on the diagram above), look out of the driver's window into the side road, NOT the windscreen.
As you turn, your eyes will slowly move back to the windscreen to maintain your view along the road (you will do this naturally). As your eyes start to turn towards the windscreen, turn the steering wheel to straighten up, letting your hands follow your eyes.
Turning
Immediately before turning, double check that there is no one passing on your right.
Motorcyclists call this the 'lifesaver check' - they always check mirrors and blind spots before turning or changing lanes (left or right). As a car driver the right mirror and blind spot check can also be a lifesaver. Check that there are no motorcyclists, cyclists or other vehicles about to overtake you immediately before you turn right.