Lights in daytime fog
You must always use lights if visibility is less than 100 metres (by law). Your lights won't help you to see in foggy conditions, however, they help others to see you, therefore the more light you have, the better.
Use your headlights and fog lamps. Parking or dim-dip lights are as good as useless in daytime fog because they will not penetrate the vapour sufficiently. If the fog is really thick, use full headlights and spot-lamps - better still, stop for a cup of tea!

Front fog lights
Your driving instructor perhaps never told you about front fog lights... Maybe he didn't know?
Front fog lights are usually mounted low down and give a broad flat beam. This reduces the amount of light that is reflected back by water droplets in the air. The most benefit from front fog lamps can be gained at night, especially on roads with street lighting.
Front fog lights will help you see the white lines and kerbs better - use them with dipped headlights (full lights are no use because the fog will simply reflect the light back making it harder to see). If the fog is really dense at night, switch off your headlights but leave on your front fog lamps other drivers will still be able to see you, but you will see more clearly because less light will be reflected back by the water vapour in the air (if the fog is really dense it's best not to drive).
Craze or just crazy? There seems to be a 'craze' amongst some drivers to use front
fog lights as driving lights when visibility is good. By doing this, you run the risk of dazzling other drivers who may the smash blindly into your car...
Using front fog lights in clear weather is an offence but the rules are rarely enforced.

Rear fog lights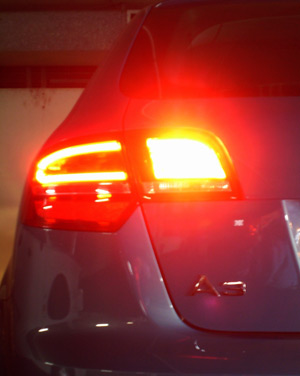 Lots of drivers put on their rear fog lights as soon as it starts to rain or when it gets is little misty. While I've no doubt that they do this with good intention it can cause more harm than good.
High intensity rear fog lamps are designed for thick fog, typically 100 metres or less visibility. Using rear fog lights when visibility is greater than this can mask your brake lights and dazzle other drivers, thus increasing the risk of a rear-end collision rather than reducing it. Constant, dazzling bright lights can also add to fatigue at night.
The UK Highway Code says:
Rule 226: You MUST use headlights when visibility is seriously reduced, generally when you cannot see for more than 100 metres (328 feet). You may also use front or rear fog lights but you MUST switch them off when visibility improves

Rule 236: You MUST NOT use front or rear fog lights unless visibility is seriously reduced as they dazzle other road users and can obscure your brake lights. You MUST switch them off when visibility improves.
When the word 'MUST' is used in The Highway Code it denotes a legal requirement.
It's helpful to think of rear fog lamps as signals. Switch on your rear fog lamps when there is no one close behind - but switch them off as soon as they have done their job and the driver behind can see your regular tail lamps*. For example, if you are in a slow moving queue of traffic in fog, the driver 5 metres behind doesn't need your fog lights!
*In the UK it is not a legal requirement to use rear fog lights when visibility is seriously reduced - however, non-use could possibly be considered as a contributory factor in the event of an accident in seriously reduced visibility.